There are a handful of celebrities who put their power to good use and we've accumulated 10 of these real life heroes that we can always look upto.
Angelina Jolie
Angelina meets schoolgirls in a village in Afghanistan. Courtesy: UNHCR
Apart from Jolie's work in the Hollywood, she is widely known for her relentless humanitarian work. She was also awarded with Jean Hersholt Humanitarian Award for it. Angelina Jolie is a Special Envoy of UNHCR where she works for the plight of refugees and fights to end violence against children and women in conflict zones. She is also a visiting professor at London School of Economics where she teaches about Women, Peace and Security. She is a superwoman with 7 children out of which 3 were adopted and she continues to encourage people to do the same. Jolie started a charity called Jolie-Pitt Foundation with her husband Brad Pitt through which they have donated millions of dollars to humanitarian causes around the world. She is a feminist idol and inspiring role model for children.
Emma Watson
Picture via: Emma Watson's Instagram
Emma Watson is the kind of person who asks her fans to skip her birthday and Christmas presents and instead donate to UNICEF's charity fund. Watson was appointed as a UN Women Goodwill Ambassador and led a campaign called #HeForShe, calling men to advocate for gender equality as well. As a part of her work with UN Women, she also started a book club called "Our Shared Shelf" where she herself reads and encourages others to read books on equality. The Harry Potter star has also been leaving books in secret places for readers to find. This international project called The Book Fairies has Hermione Granger written all over it. Watson also arranged TV appearances with her Harry Potter co-stars to bring awareness to the UK charity Children in Need. Watson is also known for donating personal and handmade items for auction to collect funds for Wild Trout Trust, DIFFA/Dallas, Blue Peter's Mission Nutrition and Sense, a charity for the deaf-blind and has designed eco capsule collections for People Tree, a fair trade sustainable clothing brand.
Mark Ruffalo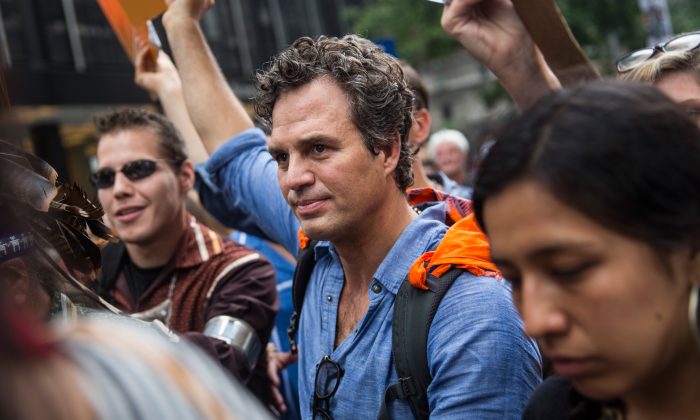 Ruffalo in the People's Climate March in New York City, Sep. 21, 2014 (Picture By:  Andrew Burton)
Ruffalo aka The Hulk is a very active clean energy supporter and has his own charity organization called Water Defense. Ruffalo is known in the community of environmentalists because of his support of green campaigns like The Solutions Project, which is pushing for a transition towards using 100% clean energy for everyone. He is also a member of Artists Against Fracking, an association initiated by Yoko Ono and her son. He was awarded The Humanitarian Award for his work with Water Defense at the BAFTA Los Angeles Britannia Awards.
Leonardo DiCaprio
People's Climate March in New York City, in 2014. Photograph: Edward Leavy Jr/Demotix/Corbis
Leonardo DiCaprio is well known for his environmental educational movies and acts of activism. He has also been an active supporter of many charities for decades. The actor even drives an eco-friendly car. At age 24, Leonardo established the Leonardo DiCaprio Foundation and has been steadily donating to help advance the UN climate negotiations, protect coral reefs and tigers, and spread public awareness about the dangers of climate change. The United Nations even named DiCaprio a U.N. Messenger of Peace.
George Clooney
Via: Flickr
George Clooney may be popular as every women's dream for his looks and personality, but he also played an important part in anti-war activism and humanitarian work. Clooney famously founded Not On Our Watch, an organization to stop the genocide in Sudan. He has also supported the ONE Campaign, United Way, Oxfam and countless other charities and foundations. Since 2008, Clooney has served as one of the UN Messengers of Peace. He has been advocating for Darfur, as well as organized the Hope for Haiti telethon to raise funds for victims. Clooney was even arrested in 2012 during a protest outside the Sudanese embassy in Washington D.C where he was protesting the war in Darfur.
Oprah Winfrey
Picture Courtesy: Stephane De Sakutin
Oprah Winfrey has made proper use of her talents as a media person/influencer to help various charities and organizations. Oprah used her show to draw attention to different issues and causes. She operates the "The Oprah Winfrey Scholars Program," which gives scholarships to students determined to use their education to give back to their communities. Through the Angel Network, she has awarded hundreds of grants to organizations that support the education and empowerment of women, children, and families all over the world. She has also provided significant funding for The Oprah Winfrey Leadership Academy for Girls in South Africa. Aside from her own work, Oprah has also volunteered her time and money for many other charities and organizations.
BEYONCÉ
Picture Courtesy: Ezra Shaw
Beyonce is not all just about he god-like personality, she has made significant effort to give back to the world. For her Formation World Tour, Beyoncé partnered with three charities: Chime for a Change, Global Citizen, and United Way Worldwide to encourage fans to seek out ways they can help others in their hometowns or adopted cities. The singer also donated more than $7 million without any publicity to the Knowles-Temenos Place Apartments. This helped in housing homeless men and women, administering HIV/AIDS tests, meals, and giving job training to the residents. During her On The Run Tour, she donated $1 for every ticket sold to the Shawn Carter Foundation, an organization that provides education funding for low income families. She also helped found the Survivor Foundation, a community outreach facility in Houston with the help of the members from her former band – Destiny's Child.
Orlando Bloom
Bloom meets children and families affected by Boko Haram violence on Niger trip. Picture: UNICEF
Orlando Bloom is not just a Lord of the Rings star but also a UNICEF Goodwill Ambassador. Bloom has visited children in Eastern Ukraine to draw attention to the education crisis brought on by the war. He then told UNICEF Media of the hardship he witnessed. The actor was also the first celebrity to visit Libya following the Ebola outbreak and has visited Nepal twice to learn about how UNICEF aids impoverished communities.
Ian Somerhalder
Via: pinterest
An outspoken supporter of animals and the environment, the actor launched the Ian Somerhalder Foundation in 2010, an organization that tackles environmental issues and fights to end animal cruelty. He's currently working on building the ISF Animal Sanctuary, which will teach compassion to children dealing with anger and bullying issues as they work alongside animals that have behavioral problems. He also participated in the #MovetheUN campaign to get animal protection on the global agenda.
John Cena
Via: Youtube
John Cena has rightfully earned respect for his work inside the ring. However, his contribution to the world outside of the ring deserves just as much respect if not more. In 2015, John Cena granted his 500th wish as a part of the Make-A-Wish Foundation, becoming the first celebrity to reach such a milestone. He has been granting wishes for children battling various illnesses since 2004. Cena has also released a video about the importance of celebrating diversity.